Pat Harvey is a watercolourist specialising in urban, French and floral subjects. She is also a writer/producer with a passion for French art and culture, the veteran of several key television productions including BBC TV Arena's 'Marcel Carné - The Classic Years' (1985) and ITV's South Bank Show 'Hear My Chanson (1996), starring Juliette Greco and Charles Aznavour. Her blog, Chanson and Immigration in France, (patkayharvey.wordpress.com) highlights the French immigrant community's relationship with the great tradition of la chanson française.

Pat's watercolours hover at the borders of fantasy and reality. While following the debate within the art world about the role of traditional media, she finds these her most natural channel of expression. Like the artists she admires (Eric Ravilious, Mary Potter, Winifred Nicholson, Mary Fedden, John Piper) she aims to invest everyday objects with an air of the extraordinary.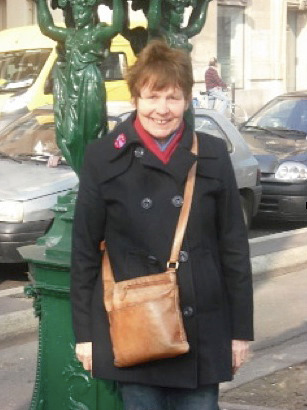 She has exhibited widely, including at Battersea Contemporary Art Fair, Brighton Festival and the Royal Institute of Painters in Watercolour, and her work is in collections in France, Sweden, the UK, the US and the Middle East.
Pat's paintings of Paris have the understated poetry of a French movie. Representational but with a dash of surrealism, they are miniature explosions of colour and light.